• Mari Hintsala • solstice • summer

Summer Solstice is the summers longest day of the year. Originated from the Latin word Sol + Sistere, solstice has the meaning of "that, which does not move". Some ancient cultures believed that a large increase in sunlight was able to change people's energy at the solstice. This is the time when there is great energy, lots of life, and lots of vibrant colours that you may use.   Pretty Pink, eco-friendly handcrafted jewellery, celebrates the brightest day with jewellery that reflects sunlight and your own light. We have a selection of yellow eco-jewellery that embodies Summer in each of...
---
• Donna B • gifts • ideas • jewellery-kit • make your own jewellery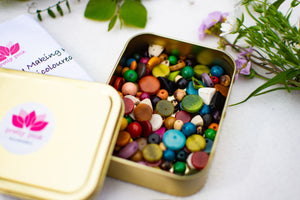 Our jewellery making kits have been described by our customers as their 'shining light during lockdown'. Suitable for beginners this is the perfect makers kit for someone wants to learn how to make jewellery. Included in our colourful beginner kits are a beautiful mix of sustainably sourced seeds from the Amazon forest, including tagua, acai, and coconut. Whether you're ambitious and want to jump straight into making your own necklace, or prefer to take baby steps by starting with a bracelet, the choice is yours.  Jewellery Making Kits to Choose From: Necklace making kit for beginners – the Cobra Multicoloured...
---
• Donna B • Colour coordinating • eco • ethical shopping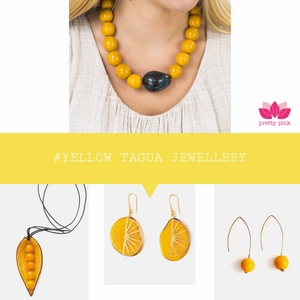 Searching for accessories to align with Pantone's 2021 colour of the year? We have a selection of Illuminating Yellow handmade eco-jewellery that will!
---
• Donna B • ethical shopping • sustainable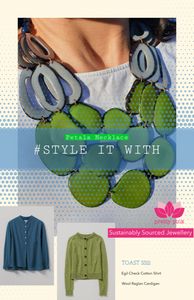 Did you know that when you wear one of our ethically sourced pieces of jewellery, you are wearing a gift from nature that started life decades ago and continues to provide inhabitants of South America a sustainable income today?  The Journey Our jewellery starts life thousands of miles away in the tropical rainforests of South America. The tagua nut is a dried seed from a large fruit palm tree. It can take up to 40 years for these trees to produce fruit, making the tagua nut a precious resource locally. The fruit contains a sweet liquid which can be drunk...
---
• Donna B • Eco friendly mother's day gifts • Mother's day jewellery gifts • Mother's day jewellery ideas
Looking for Mother's Day jewellery ideas with fast shipping? As Pretty Pink Eco-Jewellery has so much choice, we've made it easier and faster for you to shop for Mother's Day this year with a single curated collection — all available with fast shipping and optional gift card. Pretty Pink Eco-Jewellery arrives in a beautiful eco-friendly Fairtrade bag. Read on for our top 5 Mother's Day gift ideas. This collection includes timeless best-sellers and trending new jewellery. Each piece is finished by hand in Scotland and is a unique, one-of-a-kind gift. Looking for vegan gifts? We've got a huge choice of...